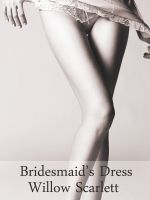 My latest ebook is up!
Click here for Amazon
Click here for Smashwords
Genre: Anal erotic romance
Wordcount: 30,000 words
Synopsis: Sophie and Callum have been best friends since high school but only while attending university, and sharing an apartment, does Sophie realize she has feelings for her tattooed and pierced best friend. But Sophie's always chosen dominant men who'll take the lead in the bedroom - and friendly Callum is just not her type.
On the eve of a friend's wedding, a comment about the raunchy bridesmaid's dress she'll be wearing has Callum throwing aside his sweet and gentle exterior to expose the dominant seductive man inside – the skilled and sexually expert man, who can give Sophie pleasure like she's never had before.
He introduces Sophie to the intense pleasure of anal stimulation and she's desperate for more. Callum is capable and willing to satisfy her every need, leading her into a delicious world of anal toys and breathless sex.
But can they maintain their treasured friendship now they've seen this side of each other? And can Sophie control her growing feelings for Callum, or will she lose the most important relationship of her life?