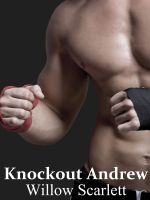 New(ish) ebook! Knockout Andrew.
Available here:
Amazon
Smashwords
Genre: M/M erotic romance
Wordcount: 37,500 words
Synopsis:
Kyle fell in love with his best friend at high school and felt sure his friend Andrew felt the same way. But one kiss ended their friendship and, years later, Kyle is still hurting.

Andrew left town to become a professional boxer. Now he's back, hotter than ever, teaching the class Kyle attends and hanging out with their group of friends. It's obvious at once that he's still the man Kyle fell in love with. It's obvious, too, that there's still chemistry between them.

Kyle finds himself falling straight into lust with Andrew. But he has to face the fact that he loves more than just Andrew's body. Andrew's confident and strong, the first man able to face Kyle in a fight – and the first man Kyle hasn't felt the urge to dominate.

Andrew could be everything Kyle has ever wanted, his best friend and lover. But will they be able to succeed where they fell down in the past? How much is Kyle willing to sacrifice for the man he loves – and will they be able to make a relationship work when their lives are so different?